Melinda Cooper
Creative Director/Owner
"Each student is unique and I devote my time to motivate and inspire each individual student to express themselves through dance and find the grace, beauty, pose and elegance that a dancer can achieve. A student can learn some of life's most important lessons in the dance studio that they will carry with them forever"
North Coast Dance Academy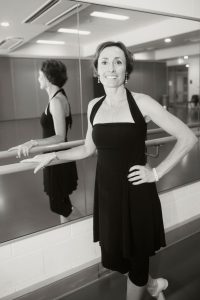 Melinda (RAD RTS) started dancing at the age of 6 at Gosford City School of Dance. In her teenage years her teacher Susanne Easter inspired her to be a dancer and dance teacher. At the age of 16 Melinda attended full-time dance tuition with Tanya Pearson and Janece Graham while also performing with the Sydney Festival Ballet Company. Melinda then joined a well-known production company and spent many years dancing and travelling around the world. On Melinda's return to Australia she worked as a Personal Assistant before marrying and starting a family of four children. Melinda studied with the prestigious Royal Academy of Dance and gained the Certificate in Ballet Teaching Studies and is a registered member of the Royal Academy of Dance. Melinda is certified in the Acrobatic Arts Curriculum. Melinda has always had a passion for inspiring and teaching students. After many years of teaching dance Melinda observed how the students mood and well-being improved through movement. Melinda teaches on the premises that the mind and body are connected. Melinda has a Diploma in Mindfulness and a Diploma in Dance Therapy Psychotherapy.
Melinda holds a current First Aid and CPR Certificate, and has a 'Working with Children check'.
'It takes an athlete to dance but an artist to be a dancer'
Inkah Fischer
Teacher
"Life is a dance, a series of movements"
I began dancing at the age of three, and from a young age had a strong love for the freedom of movement that dance can offer.
Over many years of classical training I developed a strong classical technique that prepared me to expand my practice to a greater level, encompassing styles of dance such as contemporary, jazz, lyrical, Classical Indian, Classical Egyptian, and Flamenco.
I have taught children and adults of all ages, experience and ability, and have collaborated in many areas of performance. I strongly believe that the joy of dance is accessible to all.
Following a sudden illness in my own life, I was forced to stop dancing in the way I had known and had to relearn a new way of moving and being in my body. This inspired me to redefine a truer way of moving, a way of dancing that supports people to reconnect to their natural grace, through developing a body awareness and quality of movement that is uniquely their own.
It is with great JOY that I take up the opportunity of teaching with North Coast Dance Academy, and look forwards to sharing my love of dance with you all.